WooCommerce Prescription Plugin Made Easy to Set Up an Optical Store: Explained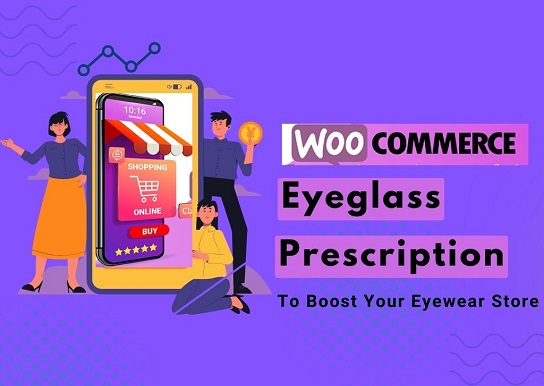 Customers prefer online shopping over traditional in-person shopping. The trend is fueled by convenience and heavy discounts. They have started purchasing prescription eyeglasses, which is possible because of cutting-edge tools and technologies. If you plan to build a site to sell optical products, use WooCommerce as an e-commerce development platform. It will give access to excellent features and plugins like WooCommerce Prescription Plugin.
While all plugins have their specific role, WooCommerce Eyeglass Prescription has gained fame significantly. We will explain why in a while. But first, let us understand the need and importance of online optical stores.
The importance of digital eyewear stores
Customer demand is the primary reason retailers (small and large) switch to the online world. Thus, major optical businesses are developing e-commerce sites while retaining a physical presence.
Many retailers attest that their internet stores generate more revenue than their physical locations. Unlike brick-and-mortar stores, they do not have to stay limited to a specific region. With a well-developed e-commerce site, they can sell their eyewear products globally and connect with a larger audience.
Compared to other products, selling prescription eyeglasses online is a bit tricky. Thus, the optical industry has boomed in the digital space in the last few years. But development like cutting-edge tools and technologies help eyewear retail businesses to expand online. One such solution is WooCommerce. It is a pool of powerful extensions like the WooCommerce Prescription plugin.
Once you choose a reliable option, as you picked WooCommerce here, the next step is setting up your store. It is not as easy as it seems. But the prescription WordPress plugin makes the process easier. If you are still not sold on the idea of using this third-party add-on, read below.
WooCommerce Prescription Plugin: The ease of setting up an eyewear store
There are many advantages to setting up an optical store on WooCommerce. The resources available to design a store that satisfies your business needs and goals are limitless. It offers access to millions of themes and plugins so that store owners may create a high-performing and function-rich store.
You can include additional plugins to WooCommerce to add particular functionality and features. One of the best plugins for an online store selling prescription eyeglasses is the WooCommerce prescription plugin.
Courtesy of this plugin, customers can acquire prescription eyeglasses over the website by adding contact lens options like strength, power, or sphere easily. Also, it aids in setting up your WooCommerce prescription eyeglass store quickly. The reason is that this plugin already incorporates the essential features that must be present on the website and specific pages.
Installation of WooCommerce prescription plugin
Installing and integrating the plugin into your eyewear store is a simple procedure. Thus, even someone without coding experience can complete it. It requires little time and takes care of all the necessary components.
It is crucial since the store owner might not be able to concentrate or fully understand all that a website visitor needs. You do not have to worry about whether customers would find the store easy to navigate or make purchases. With this, you can get time to concentrate on other aspects of your business.
Several third-party vendors sell WooCommerce prescription plugins at different prices. You can choose the best one based on the basic or extra attributes. So, make an informed decision. It is crucial to understand your business and potential customers.
Also, do not forget to read the thorough descriptions of the features offered by the plugin. After considering everything, make a final purchase.
WooCommerce prescription plugin allows you to create an optical e-store with a few clicks that is tailored to your vision. It presents your eyeglasses and lenses in the best possible way. Moreover, your store becomes adaptable if you decide to switch up the design in the future. In many cases, clients demand that too. But ensure you add inventory to get started selling.
In closing
You can quickly launch your online eyewear e-commerce site and begin taking orders by utilizing the WooCommerce prescription plugin. It provides your store with essential advantages and helps the store develop productively. As a business owner, you must conduct an extensive study before adding plugins to your WooCommerce store. In addition to making the construction of an online store simpler, plugins also save time and money.
If you plan to create a new eyewear store or take an existing one online, leverage the WooCommerce prescription plugin. It will help you set up an e-commerce site in a few steps. To purchase a plugin for your store, call SoftProdigy.