Trinket Magento Jewelry Theme: Empower Your Online Jewelry Store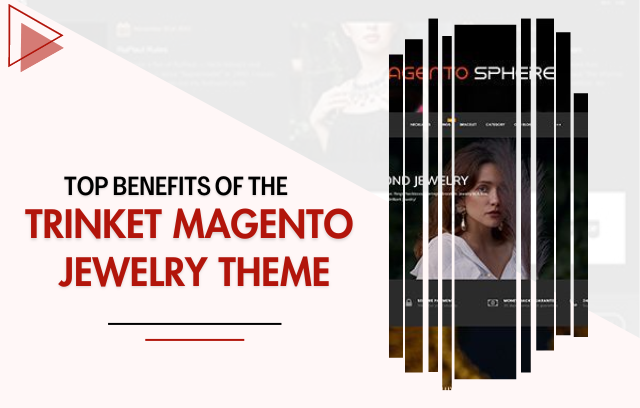 In the world of e-commerce, building a visually beautiful and user-friendly website is crucial. This not only attracts online customers and drives sales, but also solidifies your brand identity. Still, many brands fail when it comes to shaping their online store. Take jewelry businesses for instance.
These businesses often struggle when choosing the right theme and template to design their online store. As an online jewelry business, you need to ensure high performance, speed, and flexibility when shoppers land on your website. This is what makes the Trinket Magento Jewelry Theme a great theme to enable your store with such features.
Magento Jewelry Store Theme
There are a number of Magento 2 themes available out there for jewelry stores, so it can be difficult for you to pick the right one. But the Magento Jewelry Store Theme stands out tall from the crowd. Whether you want to build a new jewelry store or refresh an existing one, this is the theme to rely on.
The Magento Jewelry Theme offers a captivating solution - as it is built specifically for Magento stores to empower them with a wealth of features tailored to their unique needs. Discover more about the Trinket Magento Jewelry Theme to understand how it can help you elevate the look and functionality of your online jewelry store.
1. Visually Appealing Design
One of the standout features of the Magento jewelry Store Theme is its visually stunning design. Crafted with elegance and sophistication in mind, this template offers a beautiful aesthetic that will perfectly complement the allure of your jewelry pieces or products.
With carefully chosen color schemes, quality images, and smooth animations, Trinket creates an attractive online shopping environment that entices shoppers to explore and make purchases.
2. Product Showcase
What makes the Trinket Magento Jewelry Theme different from others is its ability to provide store owners with a wide range of options to customize the look and feel of the store. You can showcase an array of jewelry products and choose from multiple layouts.
All this allows you to present your jewelry products in a way that best suits your brand and product offerings. Whether you prefer a grid view or a full-width display, create a product catalog the way you want.
3. Customization Options
You should pick a theme that is easy to customize. Choosing a customizable theme would allow you to personalize your jewelry store as per your requirements. The Trinket theme allows for easy customization, which enables you to tailor the appearance of your store and align it with your unique brand identity.
With options to customize typography and layout, you can create a personalized and cohesive shopping experience that resonates with your target audience. Select changeable colors and add extensions to achieve the desired functionality for your webstore.
4. Mobile-Friendly Approach
In today's mobile-driven world, having a responsive jewelry store is a must. And the Trinket Magento Jewelry Theme is designed with a mobile-first approach in mind, ensuring that your store will look stunning across all mobile devices, including smartphones and tablets.
With a responsive web design, your shoppers can easily browse and shop for jewelry products, regardless of the device they are using. This will ultimately maximize your reach and potential sales.
5. Quality User Experience (UX)
The Trinket Magento Jewelry Theme prioritizes user experience by making it easy for customers to navigate and find the jewelry products they are searching for online. The theme incorporates intuitive navigation menus, search functionality, filters, and several useful features.
This allows shoppers to refine their product searches based on various criteria, such as the price. Thus, you can ensure a seamless shopping experience, enhancing customer satisfaction and encouraging repeat visits.
6. Integration and Extension Compatibility
As a Magento jewelry theme, Trinket can seamlessly integrate with the Magento platform, including all versions. It provides access to a wealth of e-commerce functionalities that can be made compatible with various Magento extensions, allowing you to expand the capabilities of your online store.
Whether you are looking for additional payment gateways, advanced marketing tools, or enhanced inventory management, the Trinket Magento Jewelry Theme can accommodate your business requirements and help you scale your jewelry store.
7. Fast-Loading Theme
Every online store needs interactive themes that can attract lots of visitors, and the Magento Jewelry Theme will create a great first impression on the visitor's mind. It is a fast-loading online store that will help you reduce the bounce rate. No need to worry about overloading graphics and features that may slow down your webstore.
In Conclusion
The Magento Jewelry Theme offers a feature-rich solution for jewelry stores seeking to establish a captivating online presence. With its visually stunning design, customizable options, responsiveness, and user-friendly features, you can enhance the online shopping experience for your customers and generate more sales in return.
To learn more about the Trinket Magento Jewelry Theme, contact us!