2023's Best Magento Themes: Magento Theme Templates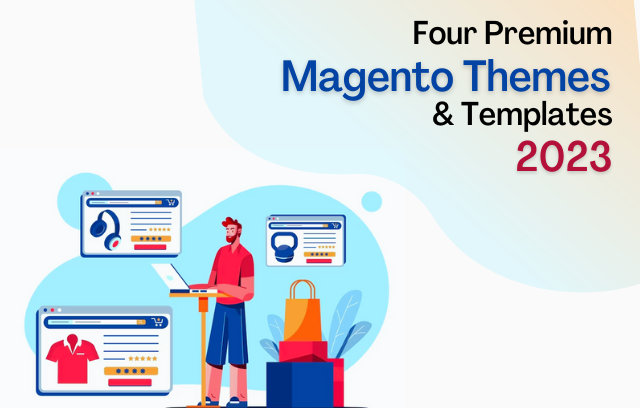 Since the inception of online shopping, e-commerce platforms have shown great success by fulfilling the varying needs of modern businesses. Whether selling physical items or offering digital products, you can do it all with the right e-commerce platform.
Because of its exciting features and advanced functionalities, Magento has made tremendous progress in recent years. With Adobe currently acquiring it, Magento is making a paradigm shift in the e-commerce sector, offering user-friendly themes and extensions that online store owners can take advantage of.
However, these features and functionalities won't be enough to run a successful Magento store. Your store will need to have additional Magento theme templates that would play a vital role in the overall business growth.
Best Magento 2 Themes and Templates
Planning to optimize a Magento store, but not sure which theme will be suitable for it? Otherwise, you may opt for an unresponsive theme, which could conflict with any newly installed extensions and functions. You can solve all these problems if you know how to choose the best theme for your Magento store.
When it comes to choosing the right Magento theme templates for your online store, there are an overwhelming number of options available out there. Below, we have listed the top five themes to help you grab the best choice for your Magento store. Please have a look:
1. Trinket - Magento Jewelry Theme
For jewelry store owners, Trinket is a powerful Magento theme to help them rejuvenate the look and feel of their store. It's user-friendly and made compatible with major Magento versions. Plus, you can customize Trinket to provide store owners with a modern store for selling jewelry products and accessories online.
Top features of the Trinket Magento Jewelry Theme include:
100% Responsive:

Trinket is fully responsive on different devices. It is designed with mobile-first design in mind.

Magento Compatibility:

It is made with Magento compatibility, meaning all features that come with this theme are compatible with Magento.

Unlimited Colors:

Choose from an array of color options for your jewelry store and customize it according to your personal taste and brand.

Browser Compatibility:

Trinket works smoothly with all popular browsers, including Mozilla Firefox, Google Chrome, and Safari.

Banner Slider:

The theme comes with a responsive banner slider that will attract customers to your jewelry store.
2. Spectrum - Magento Megamall Theme
If you run an online store possessing a huge range of products, the Spectrum Magento Megamall Theme is for you. It has an adaptable design which allows you to show off the categories, banners, and product items. The theme comes with various e-commerce features that will help you to build a megamall store without any cost and time for coding.
Top features of the Spectrum Magento Megamall Theme include:
Content Slider:

There are many content sliders provided to help you display products in different categories, enabling a constantly changing picture.

Catalog Page:

The theme supports listing and grid catalog page views that work well for browsing and filtering products.

Megamenu:

Add all the necessary links to your megamall store and illustrate them with quality pictures.

Quick View:

Allow shoppers to view product details, select required product options, and add products to the cart without leaving the category page.

Product Labels:

Add product labels to product images to promote sales and attract more customers to certain product conditions.
3. Crest - Magento Watch Theme
Choose the Crest Magento Watch Theme to build your very own watch and accessory store. Enable your store with additional functionalities and turn it into a completely active multi-vendor marketplace like Alibaba or Amazon. Crest is a unique, SEO-friendly Magento theme designed for watch stores that wish to deliver a great user experience (UX).
Top features of the Crest Magento Watch Theme include:
Banner Slider:

This theme allows you to upload banners via static blocks to promote products and accessories on your homepage.

Product Slider:

Choose products to display in a slider and promote them on your homepage.

Megamenu:

The theme gives you the options to create complex menus for an online store.

Newsletter Popup:

With a newsletter popup, you can display a one-time per customer popup window and a newsletter subscription form.

Premium Support:

The theme comes with amazing support to provide dedicated and friendly assistance at any time.
4. Bagcy - Magento Handbags Theme
Optimize your online store with this ready-to-use Magento theme, which is designed for businesses selling handbags online. It's a completely responsive Magento theme provided with a modern design for selling leather bags, handbags, etc. Bagcy is fully customizable and compatible with multi vendor extensions.
SEO-Friendly:

Bagcy puts your e-store on the road for better search engine rankings, more visitors, and higher conversions.

Mobile Optimized:

This

premium Magento 2 theme

is 100% mobile-friendly and cross-browser compatible.

Drag & Drop Builder:

It can help you drag and drop products or sections as per the requirement.

Product Comparison:

Enable shoppers to compare different products at the same time without leaving the current page.

Countdown Timer:

Include the countdown timer to help shoppers make transactions urgently.
Wrapping Up!
When it comes to choosing the right Magento 2 themes for your online business, focus on your customers and their pain points. Make sure that the Magento theme templates you choose look just perfect and don't compromise the usability and search optimization of your online store. Want to learn more about these premium Magento 2 themes?
Get in touch with us today!