5 Magento 2 Extensions to Boost Your Online Store in 2023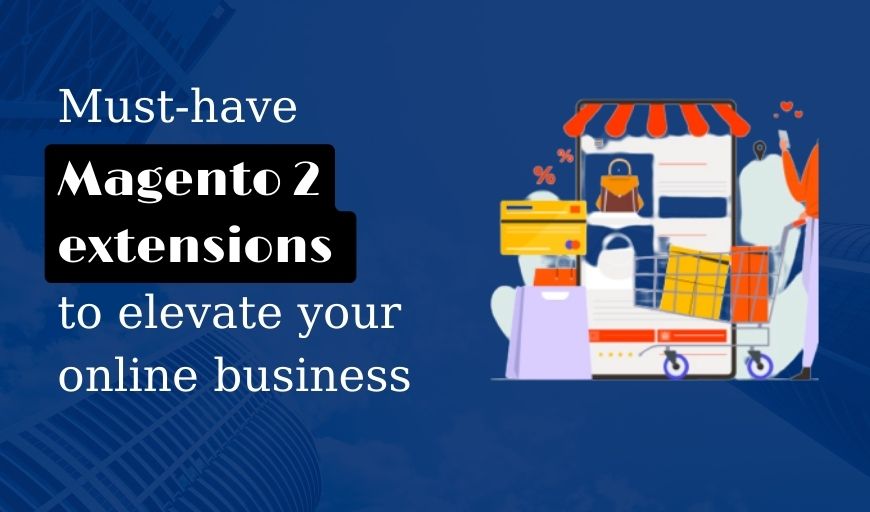 Magento 2 is one of the most favored e-commerce platforms. All thanks to its countless features and functionalities. As a result, more than 250,000 websites are built with Magento. The number is still counting. The best thing about this platform is that you can access a pool of trusted and tested Magento 2 extensions.
These add-ons help you increase the number of features in your online business. It will boost your growth and bring in new consumers each year. Currently, there are over 5,000 Magento extensions on the market. But there is a catch. With numerous options like premium prescription lens configuration, you can get confused easily. If you choose the wrong one, it will cost you both time and money.
There are new trends in every industry with every passing year. Third-party extensions are no exception. Below, we have listed Magento 2 extensions to use for your store in 2023.
1. Abandoned Cart Email
An abandoned cart is one of the primary challenges businesses face today. After all, it equals loss of revenue. Thankfully, we have a solution for you, Abandoned Cart Email Extension. With this Magento 2 extension, you can reduce and retrieve cart abandonment, which improves conversions. In turn, your revenue will grow.
It works by helping you interact with customers by offering discounts and offers. In addition, you can remind your buyers if they did not purchase eyewear products for a long time. Here are some exciting features.
Send emails regarding abandoned carts to all, including guest customers.

Access an unlimited number of customized email templates.

Limitless rules for abandoned carts.

It has a clause that allows for discount codes to increase click-through rates.

With sophisticated reporting, you may obtain information and view consumers' history.

Set up a schedule to send emails when a cart is abandoned.
2. Premium prescription lens configuration
With this Advanced Magento 2 Prescription extension, you can create an online store to sell eyeglasses and lenses. It can do a lot more to grow your business. It allows customers to buy eyewear products as per their prescription. They have simple options to select the prescription lens type, enter prescription lens details, and more. The following are some excellent features.
Customers can add their own prescriptions and describe how they utilize eyeglasses.

It aids them in selecting lens packages quickly.

Customers may choose any lens they desire and want.

You can manage backend procedures without hassles.
3. Price Per Customer
Magento 2 Price Per Customer extension offers exclusive discounts to your most dedicated clients. It enables you to alter the tier price for your products based on different consumer groups. Let us discuss some attributes of this Magento 2 extension.
Your customers can place the order by leveraging discounted customer pricing.

It allows you to specify different discounts for certain clients.

As an admin, you can access a specific offer page on the website and provide a special price.

You can take advantage of GraphQL readability using this plugin.
4. One Step Checkout
One Step Checkout Magento 2 Extension is savvy and straightforward. It helps you improve the checkout process and guide the customer through conversion. With One Step Checkout, you can increase conversion rates and lower instances of shopping cart abandonment.
It is a reliable add-on to include an intelligent single page for the entire checkout process on your e-commerce site.

Your consumers can register at the moment of checkout.

Thanks to the One Step Checkout, prospective customers can select the delivery date and time before placing an order.

If you want to display Static blocks on the checkout page, One Step Checkout is your best bet.

Additionally, it allows you to drag and drop and alter the page's checkout steps.
5. Advanced Blue Dart Integration
Another essential Magento 2 extension to add to your e-store is Blue Dart Shipping Integration. It helps your online shoppers to learn about the availability of Cash on Delivery at a certain zip code on the product detail page. Besides this, it includes capabilities like checking the anticipated delivery date and mass AWB generation. Below are the key features of the Advanced Blue Dart Integration.
Consumers can check if the COD option is available.

Real-time order tracking.

Check delivery time and date.

It allows mass AWB generation.

You can upload your logo on PDF.
The bottom line
Numerous organizations depend on Magento, a high-end commerce platform, for building their websites. It helps you create a high-performing online store. Moreover, by selecting the appropriate Magento 2 extensions for your company, you can add the necessary functionality. As a result, you will stay ahead of your competitors in 2023. Remember, these are not all-inclusive extensions. The choice is based on your needs and goals.
If you are searching for a reputed company offering Magento development services, contact SoftProdigy. We also deal in powerful Magento 2 extensions that will take your store to another level.