WooCommerce Eye Glasses Lenses Prescription Plugin
Item Id: 213
94 Purchases
Wordpress EYE Glasses and Lenses Prescription WooCommerce Plugin builds your Eye Glasses and Lenses Website quickly and easily. It features popular Prescription, Select Lenses and their Addons. You can also easily increase your sale by adding your this plugin. Prescription glasses is the best plugin for your wordpress website.
Complete solution for online eyeglasses selling E-commerce store

Displays pre-configured options for fields of lens type products

Prescription visible at cart page
Backend Demo Credentials:
User Name: DemoUser
Password: jdemouser}ODxvCC5iz9
Wordpress Eye Glasses and Lenses Prescription WooCommerce Plugin
Online eyewear business is the latest business trend among 21st century entrepreneurs. This business concept also works for you if you are allowing your customers to purchase what exactly they are looking for. This could be possible with the integration of a couple of key things with your online eyewear store. Wordpress Eye Glasses and Lenses Prescription WooCommerce Plugin is one of them.
This WooCommerce compatible plugin for digital eyewear store is a great help for online lens buyers as well as store admins. It allows customers to specify their needs related to the lens type they want to purchase from your online eyewear store. At the same time, it has everything for the admin to control things from the backend.
How it works?
This is a key thing you must know about. Wordpress Eye Glasses and Lenses Prescription WooCommerce Plugin displays options your customers need to specify their lens prescription in detail. Category, product/lens type, add to cart, view cart etc. At the same time, the list of features admin needs to take control of things are available under the Advanced Lens Prescription tab on the backend.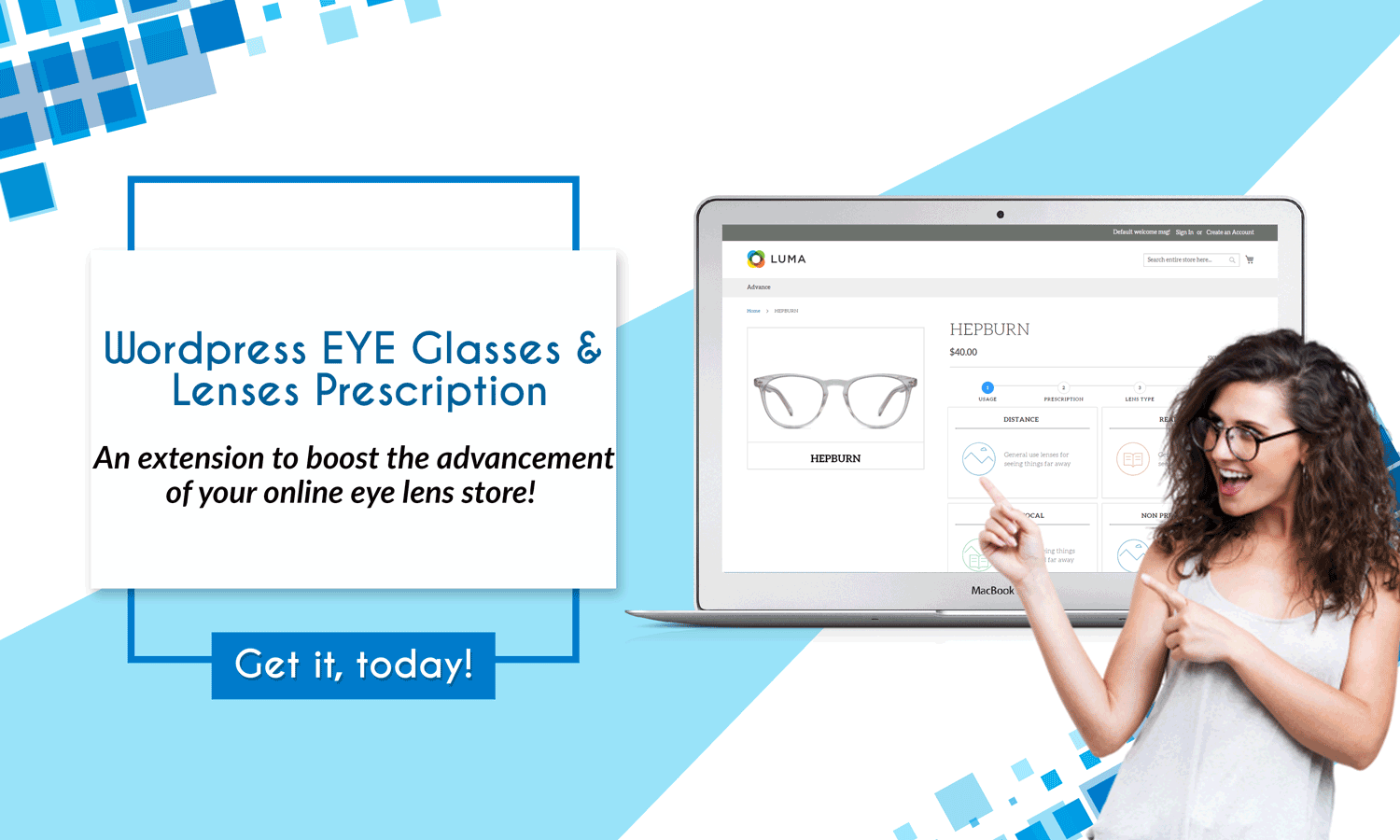 You will need to access those features using your login credentials. Once you login successfully, just scroll down and you will see Advanced Lens Prescription tab containing features about distance, reading, multifocal, display of additional price, sun color tints, light adjusting color tints etc.
It is a place for the admin to specify the value of everything from the backend to help customers take the right decision.
Wordpress value Advanced WooCommerce Lens Plugin will add to your online eyewear business:
Let's now first look at the way it benefits customers to benefit your online eyewear business:
Offers customers Show Lenses feature on frontend to help them add prescription for eyeglass lenses on product detail page.
Shows customers the price of lenses and frames chosen. They get to see the price on Product Details Page.
Gives customers following options to specify the usage of the lens type they want to purchase:

Distance

Reading

Multifocal

Non-Prescription
Gives readers looking for lenses two options.

One of them is READERS.

The other one is INTERMEDIATE.
All in all, it helps readers choose one these two options catering to their reading needs.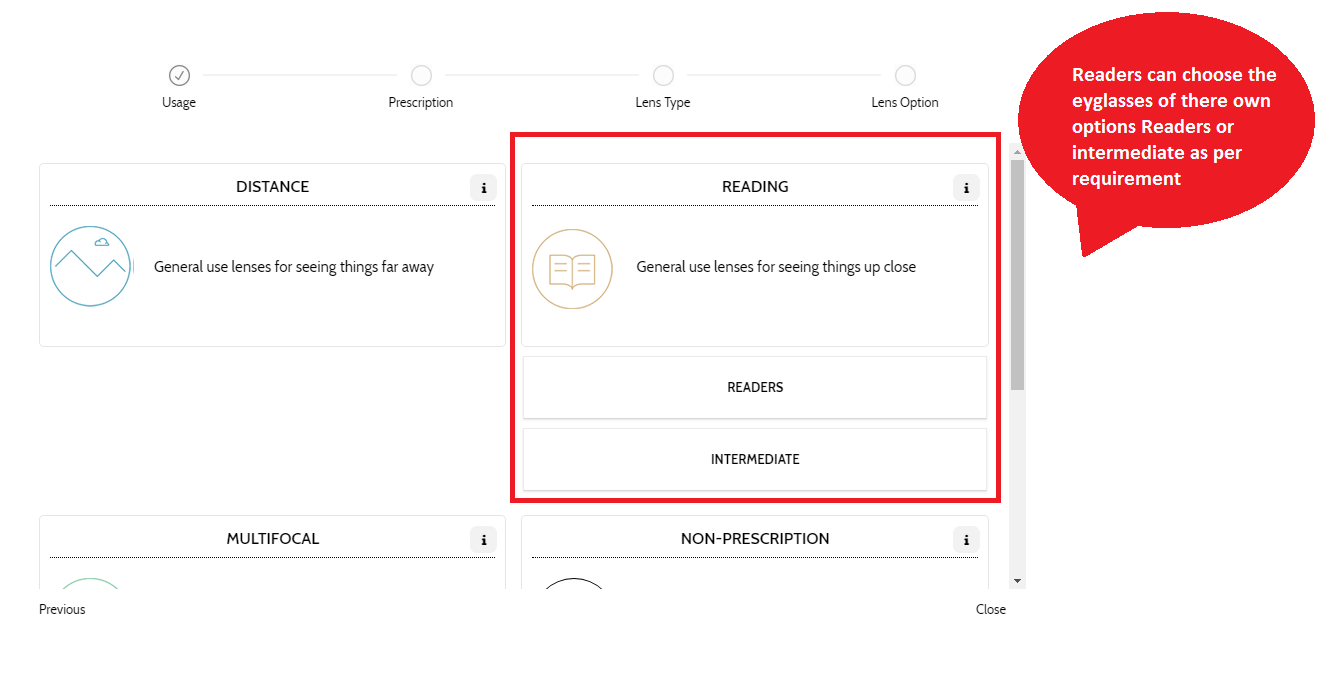 Provides multiple options to multifocal lens users with manageable prices.
Customer Can upload the prescription in form of any image or document. That will be stored in admin in orders.

Provides Prescription feature to help customers add eyeglass prescription of all attributes.
.
Makes it easy for customers to choose lens type of their choice according to the eyeglass type they need.
Helps customers choose the color of their lens with Light Adjusting option. Once customers are done choosing the color of lens type they want, they can confirm their selection of color.
Helps add Tint Strength and Color for Sun Lens Type Glasses customers are interested in.
Lens option shows customers the variety of lens options available for them on your eyeglasses store to choose from with their price. This price varies according to the lens type they need. Following are the lens type options customers get to choose from:




Basic Lenses

Most popular Lenses

Advanced Lenses

Customize Lenses
Customize Lenses option is to help customers customize the lens of their choosing according to their needs.
Helps customers to choose index lenses as per their vision needs.
Shows Prescription to the customers on Shopping Cart Page and helps them purchase exactly the lens/frame type they are looking for. This prescription on cart page contains information about everything.
Offers customers a Feature called My Account. This section contains all kinds of information about the prescriptions ordered by customers.
Enough about the wealth of features this WooCommerce plugin. Let's now take a good look at the wealth of backend features it provides to admins also,
Backend Features Advanced WooCommerce Lens Plugin Offers For Admins:
The success of any online store depends equally on the list of frontend and backend features of plugins integrated with it provide. Therefore, if you're an online eyeglasses store owner planning to integrate Advanced WooCommerce Lens Plugin with your store, it becomes important for you to know about the wealth of backend features it provides to make life and business growth easier.
The list backend features of Advanced WooCommerce Lens Plugin
The ease of installation and activation. It hardly takes a minute or two to get installed. Once the installation procedure is carried out successfully, follow the steps mentioned below to activate it:
Just login to your WooCommerce account and scroll down to get to the Plugins option.

This is where you will see options to Activate and Delete Advanced Lens WooCommerce Plugin .


Just click on Activate option available there and it is activated.
Advanced Lens Prescription option will help admins display products and add their attributes.
There are two different options for choosing the product type. This feature of Advanced WooCommerce Lens Plugin also helps admins copy any sample data to product with just a click of mouse and change it according to the requirements of admins.
Offers Additional Price option to help admins set/add additional price of all lens types/options or glass types easily. This option is available for admins in the Admin Section of their account.
Advanced WooCommerce Lens Plugin offers admins Sun Lens Color Tints option to help admins add Tint Colors of their own choice/according to their business/customers' needs
All eyeglasses prescriptions ordered by customers is visible for admins on backend in their Admin Section. It is to help admins ensure that the prescription being processed is exactly the prescription customers have ordered.
Coming to the point, in case you are thinking about buying Advanced WooCommerce Lens Plugin for your online eyeglasses store for business growth, this is not the end of the list of features it provides for customers as well as admins.
Everything you have read about it here is just tip of the whole iceberg! Therefore, don't forget to call SoftProdigy or visit our website to know the complete list of its features and the value it can add to your business.
Interested!
Alright!
Waiting for your call then!