Improving Checkout Process of Your Magento Eyewear Store: Top Extensions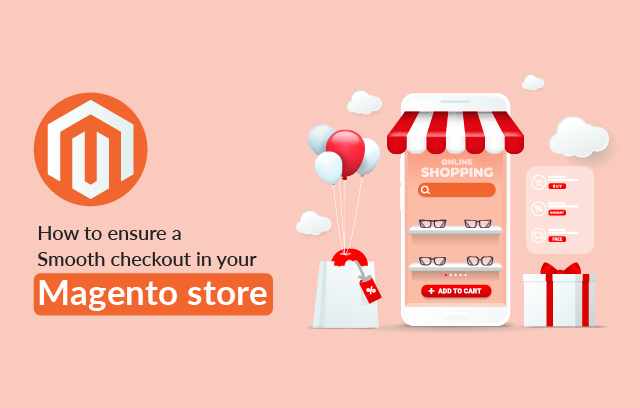 High cart abandonment is a nightmare for e-commerce store owners.
For example, you have built a well-designed e-commerce store to sell quality prescription eyeglasses. Besides this, you have invested enough time and money in promoting your products online. Your potential customer even added a product to the cart. But just before the checkout, they left your e-store. What did go wrong?
Your customers abandon their carts because of the complicated and time-consuming checkout process. And if you have built your optical store on Magento 2, this issue may be more common. Why?
The default Magento 2 does not have many options for checkout customization. Fortunately, Magento has countless extensions that help you add the necessary features to your eyewear store. There are both free and premium Magento extensions. With these add-ons, you can customize your checkout process and prevent cart abandonment. We will explain these extensions later. First, let us learn the common reasons for abandoning the cart.
Why do customers leave their cart without completing the purchasing process?
A buying process already involves a list of actions and decisions. The journey begins from the product page and ends with the order success page. Moreover, if your users have to deal with additional steps when checking out on your site, most abandon the cart. According to this survey, 18% of shoppers abandon their carts after facing a complicated checkout process. Here are some reasons contributing to cart abandonment.
Complicated store navigation
Time-consuming checkout process
Magento store timeout
Payment security issues
Unexpected costs
Wrong payment options
Obligatory registration
Issues related to payment processing
Since all the reasons are related to the checkout process, you need to customize it to reduce or stop cart abandonment. The best way is to use Magento 2 extensions. Here, we have listed the top ones.
1. Magento 2 Blue Dart Shipment Tracking
It is a premium extension for Magento, which means you have to buy it from a third-party vendor like SoftProdigy. By installing Magento 2 Blue Dart integration extension to your optical store, you help your visitors and customers in various ways. For example, they can check whether you offer cash on delivery to their location or not. It also lets them figure out the total price of the order.
After checking this, if your customers place an order, this extension creates a PDF file with necessary details like the product, buyer, company, and order ID. It will go to a Blue Dart team. They will generate an order tracking with the AWB number. Once it is done, the order will be shipped to the customer.
To be precise, Magento 2 Blue Dart Shipment tracking extension lets customers check the availability of cash for delivery. It saves their time and improves their user experience.
2. Advanced Prescription Contact Lens Magento 2 Extension
Although this extension does not have a direct impact on the checkout process, it can boost order processing. With this advanced Magento 2 Extension ,you can set up your eyewear store based on the lens types, lens options, and other attributes of both eyes. Hence, your customers can easily find what they want and add it to the cart with a few steps.
3. Magento 2 Payubiz Payment Gateway extension
If you want your optical e-store to gain a competitive edge over others, integrate Magento 2 Payubiz online payment gateway extension. It offers numerous benefits to your shoppers. For example, they can make payments using multiple methods or even pay with the EMI system. It also supports multiple currencies, which is an excellent feature if you are targeting a global audience.
In simple words, Magento 2 Payubiz payment gateway helps you sell products through fast, safe, and reliable payment options. Thus, your users do not have to worry about security when buying products from your store.
Besides using extensions, you can improve the checkout process of your eyewear store with these tips. These are premium Magento extensions and if you have a limited budget, consider the following steps.
Pro tips to boost your Magento store checkout process
Make your checkout process more specified - Your customers should know what to do as they hit the "Add to Cart" button on your eyewear store. For this, you need to make the checkout process as simplified as possible. Therefore, it is advisable to provide a one-step checkout to remove unwanted steps and fields.
Avoid clutter - Remember, your buyers know what information sites need to complete the order. If you do not want your visitors to leave at the cart, avoid additional fields. It only frustrates buyers, which does not work in your favor.
Ensure mobile-friendly checkout - More than half of customers use mobile devices to make purchases. So, if your checkout design is not responsive to mobile phones, it will tiny product images and difficulty in navigation. Hence, you will lose customers using mobiles to buy products. For this reason, the checkout design of your Magento store should be mobile-friendly.
Remove obligatory registration or sign-in - It might be relatable to most of you, as you might have done this once in a lifetime. That is you immediately abandon a shopping cart as obligatory sign-in or registration form pop-ups.
If you do not want this to happen with your Magento store, an obligatory sign-in is a big no-no. Instead, you can allow customers to log in using social media accounts or email.
In closing
Do you know Magento extensions can significantly reduce the time shoppers take to place an order? It positively impacts your conversion rate and sales while reducing bounce rate. So, whether you choose free or premium Magento extension, it should fulfill your needs and requirements. Also, do not forget to consider these steps for improving your checkout process.
If you are looking for a reliable company offering Magento store services, contact SoftProdigy. We have years of experience delivering 100% customer satisfaction.