Free Vs. Paid WooCommerce Plugins: The Pros and Cons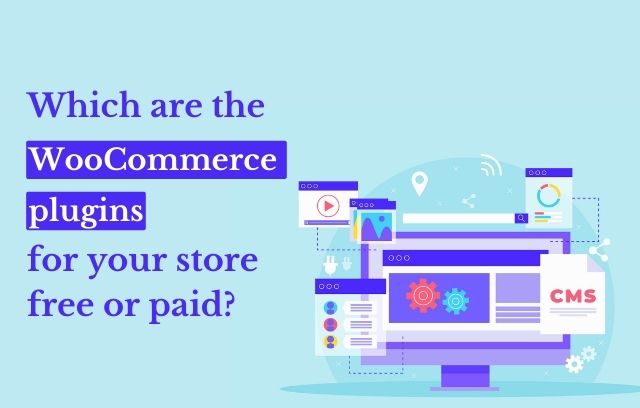 Every retailer wants to choose the best WooCommerce plugins for their stores. But making a decision is overwhelming. Moreover, if you are deciding between free and premium options, it is a real challenge.
For example, premium plugins lure us with sophisticated designs and impressive features. On the other hand, free options appeal to our inner bargain hunter. In the end, you may find yourself struggling to make a decision.
Remember, both options have their advantages and disadvantages. But the choice depends on your project needs and budget. Below, we will explore the advantages and disadvantages of free and paid plugins. Thus, you can make an informed decision about the best WooCommerce plugins for your business.
So, whether you are just starting out with WooCommerce or looking to expand your existing store, keep reading to learn more about the pros and cons of free vs. paid plugins.
Pros and cons of free WooCommerce plugins
The advantages
Free WooCommerce plugins can be an excellent option for those looking for basic functionalities at no cost. It offers access to community support and a wide range of options. Let us learn how they will benefit you.
The most obvious benefit of using free WooCommerce plugins is that they are free of cost. They are a boon for businesses with limited budgets or those who want to test a plugin before committing to a paid version.
Free plugins are created and maintained by the WooCommerce community. Therefore, you can find support and solutions to common problems in online forums and discussion groups. It can be helpful for beginners who are still learning the ropes.
WordPress.org has countless free WooCommerce plugins offering a range of functionalities that help you customize your online store. With so many options available, you can experiment with different plugins to find the ones that work best for your business.
Free plugins provide straightforward functionalities. And they are easy to understand and implement. Free plugins are your match if you do not want to spend hours figuring out complex features.
Many free WooCommerce plugins offer essential functionalities like payment gateways, social media integration, or product reviews, which can be enough to run a store.
The disadvantages
While there are many benefits to using free WooCommerce plugins, there are also some potential drawbacks to consider. Here are some cons of using free WooCommerce plugins.
paid, free plugins may not offer the full range of features or capabilities. Hence, it can limit the customization options for your online store and eventually hinder its growth.
Paid plugins come with dedicated customer support. But free plugins may not offer the same level of assistance. And this can be problematic if you encounter issues or require technical support.
Free plugins are not as secure as their counterparts. They may contain vulnerabilities that hackers can exploit with ease. As a result, you may end up putting your online store and customers at risk.
Free plugins may not be compatible with other plugins or themes, causing conflicts. For instance, they may work well with your premium Prescription WordPress plugins that can affect the functionality of your online store.
No doubt, free WooCommerce plugins are a cost-effective option. They may come with limitations and risks. If you require advanced features, dedicated support, or top-notch security, paid plugins are better.
Pros and cons of premium WooCommerce plugins
The advantages
There are several advantages to using paid WooCommerce plugins, including:
Paid plugins generally offer advanced features and functionality. They are not available in free versions. These features can improve the overall performance of your online store and enhance the user experience. If you want to sell prescribed eyewear products, the WooCommerce Eyeglass Prescription plugin is a must-have. It allows your shoppers to buy products without hassles.
Paid plugins have a dedicated team of developers. Thus, you can get the right support and resolve any issues that arise during the installation or usage of the plugin.
Developers update premium plugins regularly to fix bugs, improve performance, and add new features. It ensures that your online store is always up-to-date and running smoothly.
One of the reasons businesses prefer paid plugins is more customization options than their free counterparts. It helps you tailor your online store to your specific needs and create a unique shopping experience for your customers.
Paid plugins are more secure than free plugins. After all, the developers of paid plugins invest more in security measures, which help to protect your online store from malicious attacks and data breaches.
Paid plugins are tested and optimized for compatibility with the latest version of WooCommerce and WordPress. Therefore, the plugin works seamlessly with your online store and reduces the risk of conflicts.
The disadvantages
Given these benefits, paid ones might seem the best WooCommerce plugins. But before you jump in, do not forget to consider potential drawbacks.
The primary disadvantage of paid plugins is their cost. They are significantly more expensive than free add-ons. The costs can add up quickly if you need multiple plugins to run your online store.
Indeed, premium plugins like the WooCommerce Eyeglass Prescription plugin offer support and regular updates. There is no guarantee that the developer will continue to support the plugin indefinitely. If the developer discontinues support or stops updating the plugin, you will end up with an unsupported or outdated plugin.
Paid plugins come with more features and functionality. But this can also make them more complex to use and configure. That means non-technical users may struggle to set up and customize the plugin.
The conclusion
Based on these points, we can say both are excellent options. But the decision depends on your specific needs and priorities. Free plugins can be a good option for those on a tight budget, while paid plugins offer more advanced features and better support. In short, the best WooCommerce plugins are that match your business goals.
If you want to know more about prescription WordPress plugins, visit SoftProdigy. Our team of experts has years of experience and in-depth knowledge.