Choosing the Right WooCommerce Themes: A Complete Guide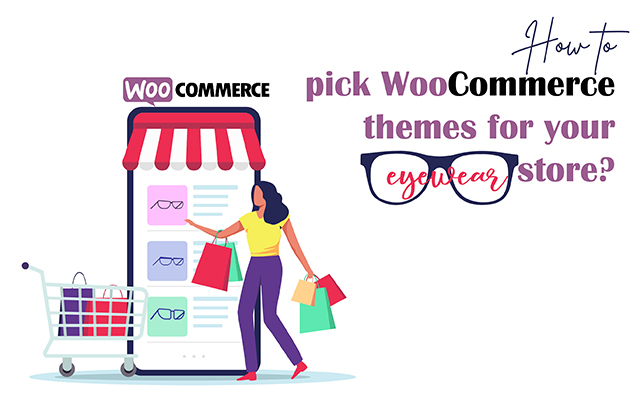 Eyesight is one of the most precious things we have. In this digital environment, everyone should take care of it. After all, the glare from screens can affect vision. That is where eyeglasses come into play. They also protect the eyes from foreign particles and harmful UV rays. Like other products, businesses have started selling protection and prescription eyeglasses.
Are you also planning to sell eyewear products online? Then consider WooCommerce to build your e-store.
WooCommerce is a first-rate e-commerce solution. It has much to offer to set up a high-performing online eyewear store. For example, it has plenty of free and premium plugins like the WooCommerce Eye Glasses Lenses Prescription Plugin. It helps you improve the overall shopping experience of your customers. How? It allows them to provide their prescription details in a few easy steps. Depending on your store requirements, you can implement any plugin.
That said, WooCommerce also comes with cool and attractive templates. If you strive to take your business to the next level, choose the best WooCommerce theme for your eyewear store. Here, we have listed the key features to look for in your WooCommerce theme.
How to choose WooCommerce themes for your optical store?
Are you in the market looking for WooCommerce themes? Then, consider these features.
1. Responsive
Responsive designs are a must for websites. After all, your customers or visitors view your e-commerce site on different screens and devices. Today, most users use mobile phones to access websites. Also, search engines prefer websites that are responsive. So, go for a template with a responsive design.
2. SEO-adaptable
An SEO-optimized e-commerce site has better online visibility and discoverability. If you want your target audience to find your WooCommerce eyewear store, your website theme should be SEO-adaptable.
3. Cross-browser supported
Nowadays, we have a range of modern and updated web browsers. And you do not know which browser your visitors are using. For instance, they click your e-commerce site link, but it does not support their browser. You will be at a loss. Always pick a WooCommerce theme with a cross-browsing feature to avoid this situation.
4. Appropriate
It is easy to choose a theme that looks good. But this should not be the case. More than aesthetics, the theme for your eyewear store should be appropriate. For this, keep in mind your brand, audience, and products. There is no point in using a theme that does not resonate with these three things.
5. Support
Whether WooCommerce themes or plugins like Woocommerce Eye Glasses Lenses Prescription Plugin, they will face technical errors because of bugs. Or they might get outdated. If such situations occur, you would want them to get resolved as soon as possible. Besides this, you should have guidance from the experts to fix the bug. In short, your WooCommerce theme must have active support from the community. You can check from WordPress.org if your theme (free or premium) has an active community or support forum.
6. Updates frequency
WooCommerce and WordPress regularly release updates to make the platform more secure and efficient. Every year, they have plenty of big releases. So frequent updates can leave your theme non-functioning. It is more common if developers do not test the themes using the latest betas.
Before you say yes to any WooCommerce theme for your eyewear store, check its changelog. It will give an idea of whether or not the developer is maintaining it. Another thing to check is that it works well with the latest version of WooCommerce.
7. Custom functionality
You should also check the custom functionality of your potential theme. In this, you need to determine how to introduce custom functionality. Many developers include a significant amount of functionality in their themes. Some frequent additions are custom sliders, widgets, layout managers, shortcodes, and content builders.
Remember, choosing a theme with a lot of custom inclusions comes with a risk. In the future, if you plan to switch your WooCommerce theme, you will lose all the functionalities. It can lead to a big problem for you, especially if you have interwoven the functionality throughout your e-commerce site.
Let us say you use a slider shortcode across product pages. It means when you switch the theme, you have to remove the shortcode from all products. To do so is not fun.
Note:* It is best to go for lean and lightweight themes for your WooCommerce store. Later, depending on your site requirements, you can add functionality using plugins. Thus, your theme functionality will remain when you switch.
The conclusion
The success of your eyewear store relies on its effectiveness. To make this happen, you should choose the most suitable theme. We hope you will consider these factors next time. The right theme can instantly improve the functionality and overall design of your e-commerce site. Also, protect your store from bugs and other vulnerabilities.
If you like to read more informational posts on WooCommerce and WordPress, visit SoftProdigy. We also deal in premium plugins like Eye Glasses and Lenses Prescription WooCommerce Plugin. Call us today.