Explained: The Impact of WooCommerce in the E-commerce Development Industry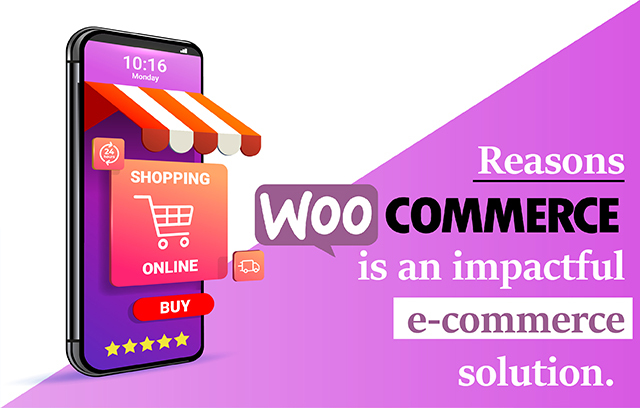 Technical improvements and updates are daily occurrences. As a result, new solutions replace the old ones in the blink of an eye. Businesses must keep up with the trends to stay on top.
If we look at the e-commerce industry, we have several big names. But the role of WooCommerce is remarkable and inspiring. Over 2.3 million e-commerce stores use WooCommerce because of its flexibility, features, and powerful plugins. Moreover, you can get it installed in a few easy steps.
Thus, we can say that WooCommerce is a game-changer in the e-commerce industry. Before using WooCommerce to build your eyewear store, you should know how it is a better option. For this reason, we have explained everything in this post.
The impact of WooCommerce on the e-commerce sector
Being an e-commerce plugin for WordPress, WooCommerce allows businesses to create and manage online stores efficiently. It has features like secure payments, inventory management, order tracking, customer engagement, etc. These are essential to building an e-commerce site. Also, there are a plethora of WooCommerce plugins. You can choose and install as per your needs and goals. For example, WooCommerce Eye Glasses Lenses Prescription Plugin is an excellent choice for an eyewear store. It helps you set up an e-store fast and hassle-free.
1. You can sell anything
What makes WooCommerce better than other e-commerce solutions is retailers can sell any product. Thanks to its incredible flexibility, you can create a website to sell various products. For example, whether you want to sell digital products or looking for WooCommerce dropshipping, WooCommerce serves all.
Besides this, it allows retailers to sell physical products, memberships, subscriptions, appointments, etc. One thing more, WooCommerce is ideal for selling various physical products or a single digital product.
2. WooCommerce inherits the power of WordPress
Another great thing about WooCommerce is its link to WordPress. As mentioned above, it is an e-commerce plugin for WordPress. While this link is beneficial for the platform, many live with the misconception that WordPress restricts its ability.
We all know the power WordPress has in the e-commerce industry. Millions of retailers prefer WordPress to build their sites for its flexibility and scalability. In addition, it is secure, fast, and easy to use. But the good thing is that WooCommerce inherits all features and functionalities from WordPress. It will give you access to thousands of WordPress plugins, which offer a top-notch experience.
3. Pricing
In the past, creating a website or e-commerce store was expensive. But it was difficult for start-up owners, as they could not afford it. It means there was a need for an affordable e-commerce solution. That is when WooCommerce jumps in. It gained popularity in a short span because it is available for free.
Do you know if you fail to choose the right e-commerce solution, the expenses can reach thousands of dollars? So, it is crucial to consider pricing before making your decision. With WooCommerce, you can leverage the capabilities and features without investing in expensive support. However, it has free and premium plugins that help you customize your eyewear store. If you implement free plugins, they do not cost anything. On the contrary, to use premium add-ons like Prescription WordPress Plugin, you must pay some fees.
4. Active community
A reliable online solution or technology should have extensive support from its community. That is another thing businesses look for when choosing an e-commerce platform. Since WooCommerce and WordPress are open-source solutions, they have numerous contributors.
Experts in the field are constantly working to improve these e-commerce platforms. Thanks to its open-source nature, anyone can create new plugins, add features, and build personalized themes. If these are free, store owners can use them without paying anything. But premium extensions and themes cost some fees.
In short, you can take advantage of a large pool of WooCommerce developers and professionals. You can easily find an experienced developer to make changes or fix bugs.
5. Powerful Analytics
We have one more reason why WooCommerce is better than other e-commerce platforms its powerful analytics. With this built-in feature, you can understand your customers and how they interact with your eyewear site. Based on your evaluation, you make your services better to attract more traffic and generate leads.
For instance, your sales data will give a lot of information about your customers, like their interests and frequent purchases. You can create a customized profile for each customer and boost your sales.
6. Top-notch content management
If your priority is to build a high-performing optical store, content management is the key. With WooCommerce, you access the features of the world's most popular content management system. That is WordPress. Content is essential for search engine optimization, content marketing, and sales optimization.
WordPress and WooCommerce can provide various content management options. These are landing pages, blogging, product descriptions, email marketing, etc. WooCommerce also has SEO plugins such as Yoast WooCommerce SEO that you can use to optimize your content.
The bottom line
WooCommerce is designed to sell products (any type) online. So, it has all the features and functionality that an e-commerce platform requires to build successful online stores. That is why it is one of the most accepted solutions by e-commerce retailers. But always hire an experienced WooCommerce developer to avoid any mistakes.
Hopefully, this post is helpful to you. To read more such informative posts, visit the SoftProdigy website.