Magento 2 Extensions: Best Practices for Managing and Maintaining Them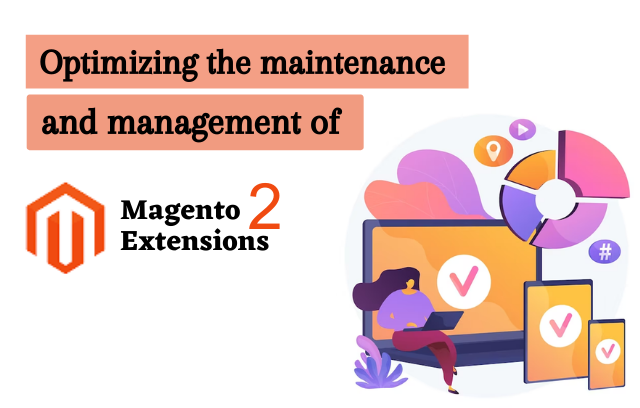 Running an e-commerce website on Magento 2 comes with its challenges. But we cannot neglect the power of this e-commerce platform. It offers numerous features and third-party extensions that enhance your store performance.
The premium Magento 2 extensions can boost the functionality of your site. As a result, it improves customer experience and ultimately increases sales. To make the most of these extensions, managing and maintaining them is critical. And this can be complex and requires careful attention to avoid potential issues that can negatively impact your site's performance.
If you are new to the e-commerce world, do not worry! Below, we will discuss the best practices for managing your Magento 2 extensions. It helps keep your e-commerce store secure, up-to-date, and running smoothly.
Tips for optimizing your extension management and maintenance
Remember, the best Magento 2 extensions can instantly add functionality to your e-store. But they are effective as long as you maintain them. Let us dive into the top practices for managing your Magento store extensions!
1. Stay updated
The most common practice is to keep all your extensions updated to their latest versions. It will ensure they are well functioning and compatible with your Magento store. As a result, your online store will run smoothly and efficiently.
Outdated extensions can cause compatibility issues and security vulnerabilities. Ultimately, the quality of the user experience will suffer. You can either manually update your extensions or set up automatic updates.
For example, manually updating your extensions is a straightforward process. To do so, you can access the Extension Manager in your Magento admin panel. It involves checking for any available updates and then installing them.
On the contrary, setting up automatic updates can save you time and ensure that your extensions are always up-to-date. You can use a tool like Magento Marketplace to set up automatic updates. It allows you to configure automated updates for your Magento 2 extension.
2. Remove unwanted extensions
Extensions, when used appropriately, can boost the performance of your Magento store. But do you know unused add-ons can work against you? That means they can impact the functioning of your site.
Therefore, it is advisable to remove unwanted extensions from your site. It will aid in improving its performance and reduce the risk of conflicts with other extensions. The following are the benefits of eradicating unnecessary add-ons.
First, having too many extensions can slow down your website's performance. After all, each extension addition has extra code and functionality that needs to be loaded by the server. It increases page load times that negatively impact user experience and SEO.
Additionally, unused extensions can cause conflicts with other extensions or core functionality in Magento. It results in errors, crashes, or other unexpected behavior that can harm your store's reputation and lead to lost sales.
3. Test your extensions
Whether you choose free or premium Magento 2 extensions, testing them is crucial before installing them on your site. With this, you can identify conflicts with other extensions or issues that may arise with your Magento installation. Here are a few reasons you should test your add-ons.
Identify conflicts: Testing your extensions before installing them on your live site can help you determine issues you may face in the future. It will minimize the chances of unexpected errors or crashes.
Ensure compatibility: Another benefit of testing your extensions is to ensure they are compatible with your version of Magento and other add-ons.
Validate functionality: Testing also allows you to validate your Magento extension functionality and confirm they work as expected.
4. Use quality extensions
When choosing extensions for your Magento store, you need to be careful. Always pick reliable sources such as Magento Marketplace or reputable third-party developers. It will give you peace of mind that they are of good quality and do not contain any malicious code.
Poorly coded or malicious extensions can cause your store to malfunction. It can slow down your site or compromise customers' personal information. Let us look at some reasons to use quality extensions.
Security: Quality extensions are less likely to contain malicious code or vulnerabilities that could compromise your store and customer security.
Functionality: A well-created Magento 2 extension will work as intended. Plus, it can integrate seamlessly with your existing store functionality, reducing the risk of conflicts or compatibility issues.
Support: Top-grade extensions come with reliable support from the developer or vendor. Thus, it enables you to resolve any issues or bugs.
5. Backup your site
Are you looking for stability and security in your Magento store? Then, backing up it before installing or updating any extensions is a critical step. Thus, you can restore your site if something goes wrong during the installation or update process. Remember that having a backup can help you quickly restore your site and minimize any downtime or data loss.
The bottom line
These best practices can ensure your premium Magento 2 extensions are well-managed and maintained. As a result, your e-commerce website will perform smoothly and securely. Besides this, stay informed about your extensions' latest updates and security patches. And you will never face issues like crashes, data loss, etc.
If you want more information on choosing the best Magento 2 extensions for your store, contact SoftProdigy. Our experts can guide you in making the right decision. We also deal in premium plugins and extensions.