Choosing the Right Platform for Your E-store: WooCommerce Vs. Magento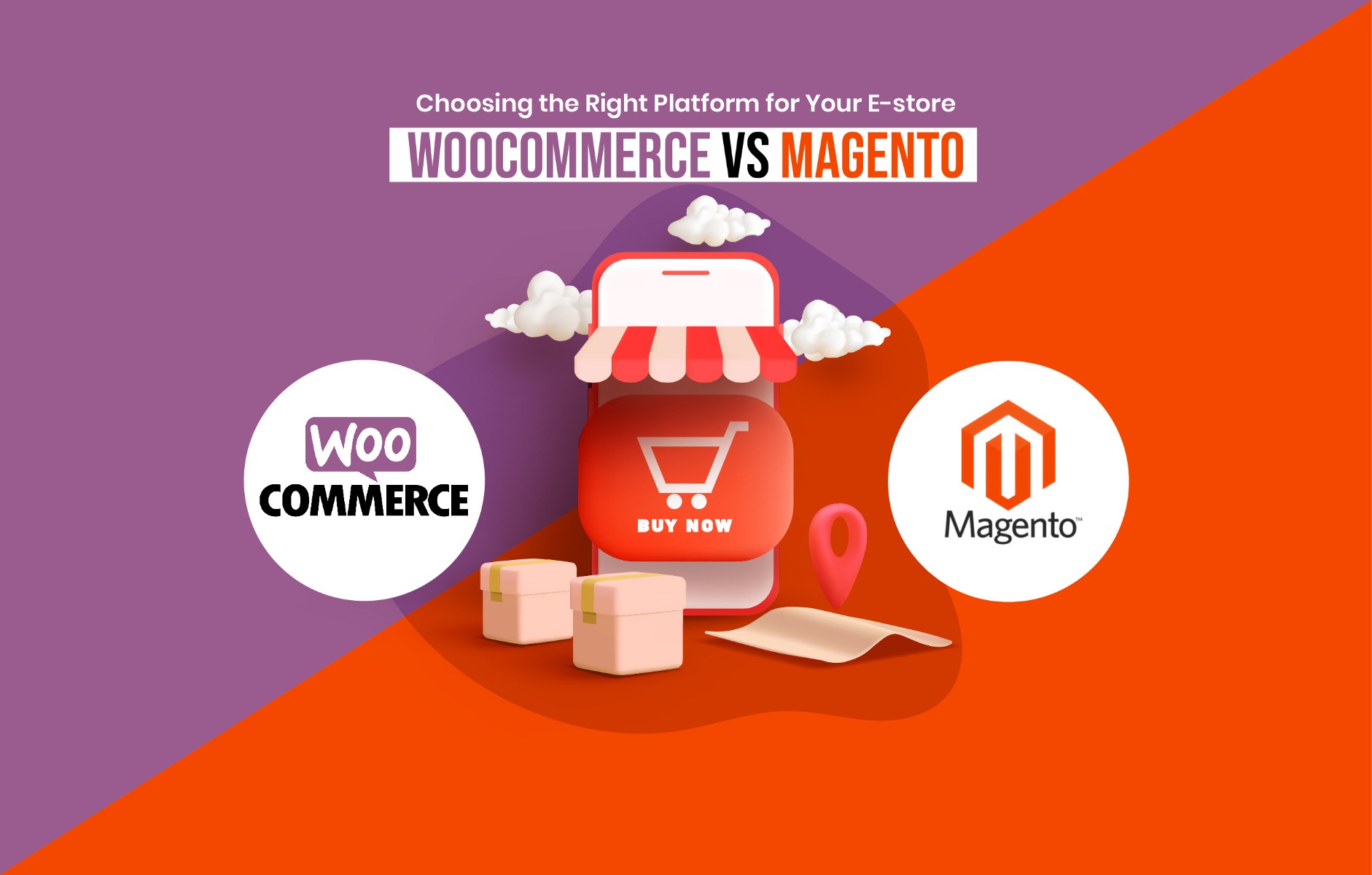 WooCommerce Vs. Magento - It is not easy to make a choice. After all, both are powerful and feature-rich solutions. Moreover, they enjoy a lot of popularity in the e-commerce world.
Given this, anyone can get stuck between WooCommerce and Magento. But if you want to ensure a successful eyewear store, it is crucial to pick the best option. The choice comes down to various factors like features, budget, audience, etc. Our professionals will help you in this matter. Listed below is the detailed comparison between the two.
WooCommerce Vs. Magento: An introduction
WooCommerce is an open-source WordPress plugin. It helps developers to build feature-rich e-commerce sites and blogs. Since its inception in 2011, WooCommerce has been gaining a lot of popularity for good reasons. So far, more than 3.6 million websites use WooCommerce globally.
On the other hand, Magento is another big name in the e-commerce world. Released on 31st August 2007, it has improved significantly with multiple versions and updates. As per built with Magento supports more than 700,000 websites with 180,000 live websites. It is suitable for creating medium to large e-commerce sites.
Now, you have an overview of WooCommerce and Magento. It is time to weigh each option based on the features, performance, and pricing.
1. Pricing
As we know, WooCommerce is an open-source e-commerce platform. That means it does not require you to pay any licensing fee. However, you still need to pay for purchasing a web hosting, domain name, and SSL certificate. Although the platform flaunts thousands of free design templates and plugins, you need premium plugins to get your e-store customized.
For example, the Lenses Prescription WordPress plugin is a premium add-on that helps you take your eyewear to another level. It allows your customers to add the prescription details easily before placing the order. On average, the cost of a paid plugin begins from $25, whereas the theme design may fall between $50 and $100.
On the other hand, Magento comes in three different pricing models. Magento Community offers free services, which cover basic only. Secondly, Magento Enterprise is a premium version offering additional features to cater to the needs of complex and large-scale e-commerce sites. Lastly, we have Magento Enterprise Cloud. It is similar to Magento Enterprise but with a difference. It offers cloud services.
Note:* If you have budget constraints, choose free services and essential features.

2. Plugins & extensions
Both WooCommerce and Magento are known for plugins and extensions that allow store owners to add additional features and functionality to the site. These add-ons are the easiest way to customize your optical e-store.
WooCommerce has hundreds of plugins (free and premium). These serve your store functionality, logistical, payment, and marketing needs. Some WooCommerce plugins that can boost your eye business are the Lenses Prescription WordPress plugin, Voguepay Payment Gateway Master, Prescription Lens Configurator, etc. These are premium plugins. However, you can leverage more than 55,000 free WordPress plugins.
Like WooCommerce, Magento boasts plenty of free and paid third-party extensions. It has an active community of developers and contributors, making the platform better. The Magento Marketplace has nearly 4,000 add-ons to improve store functionality, security, tracking system, user experience, and more. If you wish to customize your eyewear store, consider Magento Eye Prescription Extension. It allows your customers to buy eyewear products by choosing the lens type, prescription detail, and lens option.
3. Performance
Both WooCommerce and Magento build high-performing e-commerce sites. But it is time to compare and pick the better option. It is crucial for a business, as a low loading speed leads to losing potential customers.
Compared to Magento, the responsive time of WooCommerce stores is slow. On average, the loading time of site pages is 776 milliseconds. But the customer may have to wait 1.32 seconds to access the cart page.
When it comes to Magento, the site performance is fairly stable. It can even manage high traffic like 3000 visitors per day, without setbacks. The average loading speed of a page is 665 milliseconds. And the cart page can be loaded within 568 milliseconds.
Although Magento sites take less time to load than WooCommerce, it is not up to the standard. The good thing is it is not a discouragement for users.
4. Security
Security is the priority, especially if you are building an e-commerce store. It means you will have your data and customers' information, and keeping both safe is of utmost importance. We know cyber attackers are constantly hunting vulnerable sites to exploit them.
WooCommerce is a safe platform with no security issues. Over the years, the contributors have made the core highly secure. But there are still chances for data breaching and other online malicious activities through third-party plugins and extensions. For this reason, it is critical to check the quality of a plugin before installing it.
If we talk about Magento, it has in-built functionality to create highly-secured e-commerce sites. With this e-commerce platform, you can ensure better security. Moreover, it releases dedicated security patches now and then. Magento comes with built-in security measures that you can access easily. As a result, it helps secure your Magento installations. These measures play a crucial role in protecting password management, preventing cross-site scripting, and reducing clickjacking exploits.
The conclusion
Hopefully, after reading this post, you can pick the best e-commerce solution for your eyewear store. You can also migrate your existing site to WooCommerce or Magento with ease. While both the platforms are beginner-friendly, it is advisable to hire an experienced company.
If you are searching for a reliable company offering e-commerce services, contact SoftProdigy. We deal in multiple services e-commerce like development, WooCommerce plugins, and Magento extensions.