The Future of Online Eyewear: 5 Technological Revolutions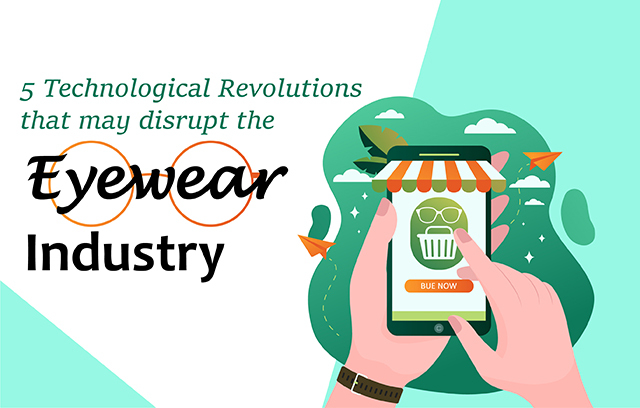 With the widespread adaptation of e-commerce, the eyewear industry is on the rise right now. According to a recent report, the global eyewear market is expected to expand at an annual growth rate of 8.5% from 2021 to 2028.
The market size is anticipated to reach $323.77 billion by the end of this decade. Let's dive deeper into the world of eyewear!
The Rise of the Online Eyewear Market
Breakout companies like Coolwinks and Lenskart have made it possible for shoppers to have eye check-ups and buy prescription lenses from the comfort of their home. Consumers can upload a picture of themselves and try multiple pairs of glasses, without even visiting an optometrist or a brick-and-mortar store physically. This gives consumers freedom and access to buy eyewear products from anywhere, anytime.
More and more shoppers buy multiple pairs per year. This is because of fast delivery, ease of access, and low cost of prescription eyewear that come with online shopping. The increasing use of social media has also led to the growth of the eyewear industry, which is coupled with influencers that know how to showoff their fancy eyeglasses.
The Role of COVID-19 in Eyewear Sales
Despite being devastating at different levels, the COVID-19 pandemic has led to more people surfing the internet. As a result, there is a significant boom in online eyewear sales.
For instance, there is a significant boom in the selling of eyeglasses that target users who work on computer screens. Anti-fatigue and vision-correcting eyewear products are also high in demand. Eyewear businesses have to adapt to such trends, so they can refresh their business model and focus more on the online marketplace.
5 Technological Revolutions that may disrupt the Eyewear Industry
It's quite evident to mention that smart glasses could be the next big thing in the optical market. They are likely to transform everyday life for the general population. In fact, Google Glass took this challenge as early as 2012. Also, Apple, Facebook, Amazon, and Microsoft have been working on their own versions for some years now. This simply points to changing technologies and growing competition in the emerging eyewear market.
Let's take a look at the key technologies that are going to disrupt the eyewear industry in the coming days.
1. Virtual Try-on Feature
Today's consumers want assurance when they make a purchase online. They want to be sure that the eyewear product they are ordering nicely suits their face. This has been made possible with the implementation of innovative technologies like AR (Augmented Reality) and the WooCommerce Virtual Eyeglasses Try-on Plugin. Once your customers open the mobile camera, they will be able to try each and every frame available on the online store. This caters to the growing eyewear demand and delivers a better shopping experience.
2. Size Determination
Unlike a piece of cloth or a pair of shoes, the size of eyeglasses has to be precise. It can't be standardized in any scenario. Here, data science comes into play and allows shoppers to determine the right fit of spectacles by just taking a selfie. For example, you can use the Virtual Eyeglasses Try-on Plugin for WooCommerce and enable shoppers to try eyeglasses online.
3. User-level Personalization
Eyewear brands all over the world are working to deliver a 'super-exclusive' shopping experience to their customers. Whether it's the shopping history of users, their buying pattern, or the shape of their face, it's good to use the customer data you have to suggest the right frame to them. Take Lenskart for instance, they work closely on designing 'Curated for you', 'View Similar', and 'Recommended for You' options.
4. Innovative Eyewear Design
Earlier, online eyeglasses were uncomfortable and less precise. They used to have thick lenses that often felt bulky. With the increasing use of quality materials like TR90, eyeglasses have become much better, lighter, and tougher. Furthermore, manufacturing innovations in this area led to the launch of hinge-less glasses for rigorous workouts.
5. Robotics Eyeglass Assembly
For the utmost accuracy and precision, lenses are now using robotics. As a result, this process boosts the productivity and automation of cumbersome processes, such as speeding up manufacturing. Using robotics for eyeglass assembly also allows manufactures to build and supply eyewear products in a small amount of time.
In Addition…
There are several promising technologies that are on the verge to change the eyewear market forever. With these recent developments, it's likely that a tech accessory as common as the smartwatch would become an everyday thing. Technologies behind eyeglasses and contact lenses go a long way. This is just the beginning of something big, and we believe technological advancements like the Virtual Eyewear Try-on Plugin will continue to change the eyewear industry for good.
Looking for a 3D try-on solution for your WooCommerce eyewear store? The Lens Prescription WordPress Plugin is the answer.