The future of Magento: How Will It Affect the E-Commerce Industry?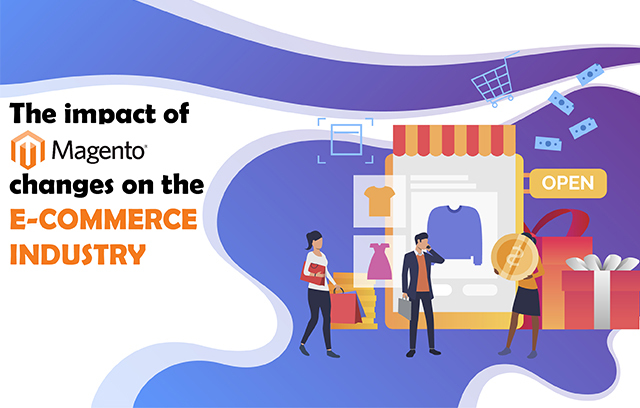 As 2022 is almost ending, it has been a great year for retail businesses. We have seen significant growth in the e-commerce sector. And Magento is one of the prominent contributors. The industry that grew faster on the digital platform is eyewear. Due to the restrictions put on by the pandemic, most optical retailers switched to online solutions.
However, the post-pandemic trends show further improvements in e-commerce. The changes in e-commerce development platforms like Magento drive these advancements. Before getting into the future of Magento and its impact, you should know why businesses prefer this over other options.
Magento: What is it, and how it benefits e-commerce?
Magento is one of the most successful e-commerce platforms of 2022. It allows developers to build robust and feature-rich e-commerce stores. Millions of retailers, including eyewear, prefer Magento for their e-commerce stores. The platform offers easy-to-use free and premium Magento 2 extensions that make selling prescription eyeglasses and lenses, convenient.
For example, the Magento Prescription Contact Lenses extension helps you create an online store to sell eyewear products. On the contrary, your customers can add prescriptions manually or by uploading files. Plus, they can save prescriptions for later. In short, the extension is desirable to ensure hassle-free sales. Let us look at some benefits you can avail of using Magento.
It offers tons of features like search engine optimization, content management systems, categories, products, etc.
It is a user-friendly e-commerce platform. Thus, you can set up your store with ease.
It is a user-friendly platform and helps you build multilingual websites.
It ensures hassle-free checkout and secure payment.
Given the current demands, Magento is likely to become the standard for e-commerce development platforms. Why not? It enables businesses to sell online products efficiently and smoothly. If you want to know how Magento's future goals impact e-commerce, scroll below.
The future of Magento: How will it determine the fate of the e-commerce industry?
The Magento future looks promising. And it will impact the e-commerce industry. After all, it is the trendsetter. Let us have a look at some changes in Magento.
1. Progressive Web Apps (PWAs)
Magento is moving towards Progressive Web Applications. But what are PWAs? They are web applications that rely on modern-day web technologies, including JavaScript, HTML, CSS, etc. These apps are designed to ensure a reliable, faster, and engaging user experience. Unlike traditional websites, PWAs are easy to install, link, and discover. Moreover, they are highly responsive and secure.
Now, PWAs have made their way to e-commerce businesses. All thanks to Magento. What makes progressive web apps unique is they offer an app-like experience while functioning as a website. Given these benefits, retailers will readily adopt progressive web apps.
2. Artificial Intelligence
The amount of generated data in the digital space is vast. Thus, human capabilities can't absorb, analyze and make decisions based on this data. And the e-commerce industry is driven by data. Therefore, to help online store owners solve this problem, Magento has adopted Artificial Intelligence. The dependency on this technology will grow in leaps and bounds.
AI has offered a new outlook on tracking customers' activities with an e-commerce store. You can provide smart searches to your customers using Artificial Intelligence in your Magento store. The reason is AI relies on predictive algorithms. Thus, your potential customers can find your products even if they do not know their names. Besides this, you can understand the intent of the search and deliver results accordingly. It will improve your user experience and help your business grow.
3. Product Information Management
If you own a medium-to-large-sized e-commerce store, manual maintenance of the inventory unit list is a real challenge. But this is something you cannot skip, as it will ensure hassle-free management of your product. Therefore, the best way to solve this problem is Product Information Management (PIM). You must be thinking it will not be helpful for you because you have a small-sized site.
It could be true for now. Once you expand your retail business, handling product labels, pricing, and descriptions will become tedious and time-consuming. In simple words, you will not be able to manage it well.
If your store is built on Magento, you implement Product Information Management. It is a software system that allows monitor product information. The integration of PIM can benefit your business in several ways, such as:
It makes the information process (editing or updating) streamlined.
It helps centralize all the information and data collected through sales and marketing.
With PIM, businesses can import and export product-related information efficiently.
The conclusion
Based on this discussion, it is clear that the future of Magento is flourishing. It will impact the trends in the e-commerce industry because it is a preferred choice of millions of retail owners. Over the past few years, it has gained momentum for its incredible features and functionalities. It also allows easy store customization with thousands of free and premium Magento 2 extensions.
If you are looking for a reliable company to buy prescription lenses extension online, contact SoftProdigy. We deal in premium and advanced WooCommerce and Magento extensions. Call us to know more!