Magento 2 Gift Card Extension: How Does It Benefit Customers and Businesses?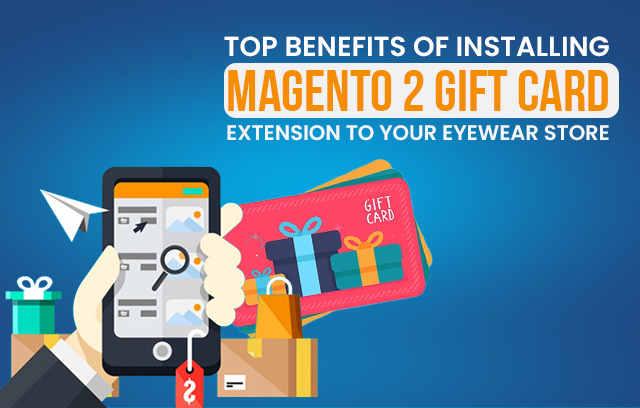 Repeat purchases from the customers are the ultimate goal of businesses. In the past, it would require tons of marketing efforts to achieve this. Thanks to numerous plugins and extensions, you can add the necessary functionality and features to your online store. As a result, it will improve your customer experience and impact sales significantly.
Magento is one of the most used e-commerce solutions for good reasons. It has thousands of design templates, great features, and extensions (free and premium). Considering this, Magento makes an excellent choice to build your optical e-store.
We mentioned Magento has plenty of extensions that will help you boost your eyewear business. These include Magento 2 PayUbiz Payment Gateway, Magento 2 Gift Card extension, and more. Each extension will serve a specific function in your optical store. However, we will focus on Magento 2 Gift Card extension.
Online buyers love additional gifts and incentives upon shopping. It encourages them to shop again. With this extension, you can offer gifts to your customers with each purchase. Magento, by default, has constraint discount functionalities. That is where Magento 2 Gift Card extension comes into play. Let us explore how this extension is beneficial for customers and businesses.
Benefits of Magento 2 Gift Card extension for customers and businesses
The extension has countless features which allow businesses to provide gifts with every purchased product. Here is a list of features you will get with the Magento 2 Gift Card extension.
• Generating coupon codes for each gift.
• Adding gifts to the cart without paying extra fees.
• One coupon code allows adding one product at a time.
• It supports various virtual product types.
• Coupons come with from to end date. It means your customers cannot add products once the coupon code expires.
The Role of Magento 2 Gift Card extension in boosting your sales
If done right, plugins and extensions give your store a competitive edge over others. It applies to Magento 2 Gift Card extension adding value to customers and merchants. Below, we have explained everything you should know.
Advantages for customers
A Gift Card is a highly-functional and flexible Magento 2 extension. It benefits your customers in various ways, such as:
• Flexibility - One of the primary advantages of installing a Gift Card in your eyewear store is it ensures flexibility. It allows your customers to use it anywhere and at any given point. Even they can use it for expensive products. In this case, they should pay extra to get their hands on favorite products and services.
• Security - Like credit cards, gift cards are also protected so that no one takes advantage of it. Your customers can redeem or restore unique gift card codes or personal details.
• Notification system - Thanks to its notification system, you can notify your customers of each store operation. With this transparency, you can build trust and strong relationships with your customers.
• Suitable pricing - Another benefit of integrating the Magento 2 Gift Card extension into your store is convenient pricing. It lets you offer an open amount, which means customers can specify the amount within their budget limits.
• Personalized note or message - In addition, if customers want to gift someone, a Gift Card allows them to write a personalized message and other information.
Advantages for businesses
Let us see how Magento 2 Gift Card extension benefits you as a store owner.
• Improve sales - Unlike traditional gifts, Gift Card extensions help you offer options and incentives to customers. It draws quality traffic to your e-store and converts them into customers. Further, it encourages customers to buy eyewear products from your store every time. It is clear that this extension has a major role in boosting your sales.
• Draw reliable customers - Customers are everything for a business. After all, its success depends on shoppers' buying behavior and pattern. With a Gift Card, online users will get attracted to your store through a promotional campaign based on gifts and rewards. We can say that it is one of the best ways to help your potential customers land your e-commerce site.
• Better brand awareness - You can also use gift cards to create brand awareness among your potential audience. To do so, you should craft different gift cards using your brand colors. Do not forget to add the logo or any other symbol that identifies your eyewear store. Your gift cards must match your website aesthetic.
• Easy to manage - Another advantage for the store admins of Magento 2 Gift Card extension is the ease of management. You can create, delete, or edit gift cards effortlessly. Moreover, you can generate countless unique codes for gift cards.
• Compatibility - Magento 2 Gift Card Extension works on a one-step checkout approach. Therefore, your customers can easily integrate gift card codes into one-page checkout. This approach automatically shares information without your involvement.
• Full control - Gift Card extension offers full control over the performance of gift cards. In simple words, you can track the necessary details like type, status, email templates, visibility, used amount, etc.
In closing
Magento 2 Gift Card extension is a proven solution to boost your customer experience and store functionality. All this leads to more conversions and, eventually, increases your sales. Install this extension to your optical e-store and leverage all the benefits.
If you want to know more about Magento 2 Gift Card and other extensions, contact SoftProdigy. Our experts have years of experience and in-depth knowledge in the field. Call us today or visit our blog!